The Scout Elves are busy in the kitchen mixing up an adorable craft featuring Kellogg's cereal! Check out their decorative marshmallow treat box below, featuring Rice Krispies®, and get the instructions for making your own gift boxes that can be used as a table centerpiece this Christmas!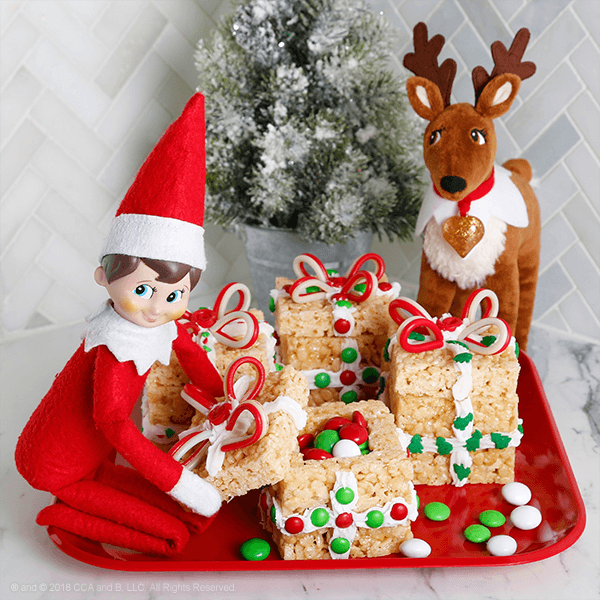 You'll Need:
Kellogg's Rice Krispies®
Butter
Marshmallows
Wax paper
White icing
Chocolate-coated candies
Licorice
Sprinkles
Instructions:
Begin by making one batch of Kellogg's Rice Krispie Treats™ using your favorite recipe. After mixing the marshmallow squares together, press the mixture onto a cookie sheet until it's approximately ¾ inches thick.
After the mixture cools, cut the entire batch into equal-sized squares (approximately 2 ½ inches by 2 ½ inches).
Use white icing to "glue" 5 squares together into a box shape with no top, and fill it with chocolate-coated candies.
The last marshmallow square should be placed on top of each box .
Finally, to make each box as pretty as a present, use icing, candies and sprinkles to decorate, and use licorice and icing to place a "bow" atop each present!
---
This recipe may contain ingredients that can cause allergic reactions in certain individuals. Before using our recipes, always check the ingredient list and food labels of all ingredients and be sure to seek advice from a qualified doctor if needed.