To create this decorative Coco Pops® Cottage, the Scout Elves put a chocolatey spin on a classic gingerbread house. Featuring Kellogg®'s Coco Pops® and fun embellishments, this little cottage is the perfect prop for kids to use while playing with their Elf Pets® Saint Bernard! Follow the instructions below so you and your family can craft your own cocoa cottage, and use your imagination to decorate it just for your Elf Pets® pup!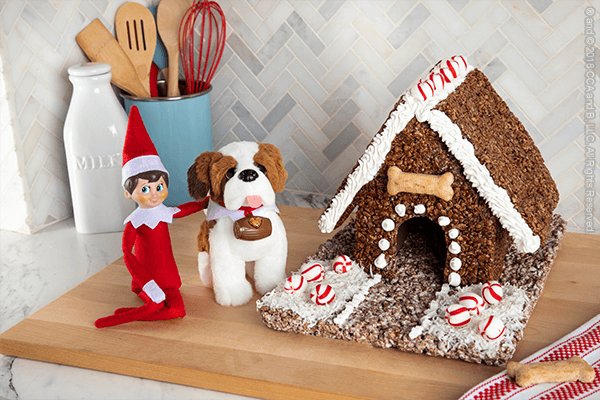 You'll Need: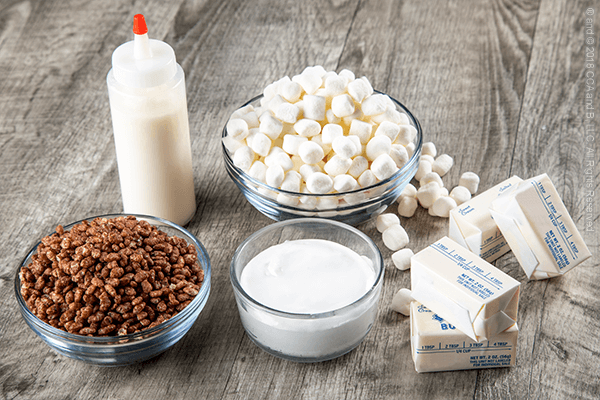 Coco Pops
Butter or margarine
Marshmallows
Marshmallow fluff (to hold house together)
Candies and/or dog bone shaped sprinkles or cookies to decorate
Icing
Instructions:
Make two pans of Coco Pops® treats using the cereal, butter and marshmallows, using your favorite recipe (Helpful hint: three pans may be necessary depending on the size of your pan and how close together you are able to cut out the pieces of the cottage).

Cut out the pieces of your house. You will need two of each of the following pieces:

5 ½ inches wide by 7 ½ inches tall (front and back)
5 inches wide by 3 inches tall (sides)
6 ½ inches wide by 7 inches tall (roof)

Assemble the pieces and adhere the sides together with marshmallow fluff or icing.

Cut a u-shaped door frame in front to make your cottage look like dog house.
Use the decorative sprinkles you've chosen to add design touches to your Coco Pops® cottage just for your Elf Pets® Saint Bernard!
---
WARNING: Keep the Coco Pops® Cottage and recipe ingredients out of reach of pets. The Coco Pops® Cottage is intended for decorative use only and is NOT suitable for pet consumption.
This recipe may contain ingredients that can cause allergic reactions in certain individuals. Before using our recipes, always check the ingredient list and food labels of all ingredients and be sure to seek advice from a qualified doctor if needed.